Hello les amis, hello les gens !!!
Samedi 4 Mai 2019 de 10H à 19H30 Min !!
C'est le retour du Free Comic Book Day et comme chaque année  Bédéciné vous convie à une nouvelle édition passionnante et riches en comics gratuits !!
Bédéciné met un point d'honneur à vous proposer chaque semaine les nouveautés Comics en VF comme en VO depuis de nombreuses années et continue de célébrer une nouvelle fois avec vous ce très bel méga-évènement de la culture Comics.
Nous aurons donc le plaisir de vous accueillir le Samedi 4 Mai 2019  pour une nouvelle édition de cette journée consacrée aux comics américains et qui fait de plus en plus la part belle aux éditeurs Français puisque  Bliss Comics, Casterman, Comics Zone et son sketchbook façon Mars Attack, Delcourt,  les nouveaux venus Komics Initiative et Kinaye , Glénat, HI Comics, Monsieur Toussaint Louverture pour une avant-première de fou, Snorgleux Comics, Urban Comics seront tous de la partie avec du sacré contenu et le grand retour de Panini Comics comme vous allez le constater ci dessous
Partie 1 : Les Titres VF du FCBD
BLISS EDITIONS – Harbinger Wars: Blackout
Le prologue de l'événement Valiant de l'année, HARBINGER WARS : BLACKOUT (sortie le vendredi 3 mai), par Matt Kindt (Divinity, X-O Manowar) et Doug Braithwaite (Bloodshot Salvation).
Découvrez aussi une preview du nouveau roman graphique de Bliss Editions : KAIJUMAX, à paraître le 31 mai.
Bliss Éditions, anciennement Bliss Comics, ouvre son catalogue et ne se limite plus uniquement à l'univers Valiant Comics.
24 pages. Exclusif pour le FCBD France.

PAPERBACK – Atomic Robo   
Son nom ?
Atomic Robo.
Sa passion ?
La science.
Son talent ?
La bagarre !
À l'occasion du Free Comic Book Day France, découvrez l'univers de ce héros déjanté à la langue bien pendue avec une aventure inédite et exclusive.
Atomic Robo est une série composée d'histoires complètes qui s'adresse autant aux jeunes lecteurs qu'aux fans d'action et d'humour.
24 pages. Exclusif pour le FCBD France.
Titre jeunesse à partir de 10 ans.
Son nom ?
Atomic Robo.
Sa passion ?
La science.
Son talent ?
La bagarre !
Comics Zone – Mars Attacks kills the Comics Universe  
Comics Zone réalise son 7e sketchbook spécial FCBD. Le thème de cette année est : Mars Attacks ! kills comics universe.
Les artistes, amateurs et professionnels, ont eu pour mission d'imaginer un monde où les personnages pulp, tirés de la série de cartes à collectionner datant de 1968, affrontent les personnages de comics classique !
La boutique à l'origine du Free Comic Book Day France propose à nouveau aux artistes de tous horizons d'être publiés dans un album anthologique.
L'âme de l'événement est dans ce titre.
Préface par Thierry Mornet (Delcourt Comics)
40 pages.
Exclusif pour le FCBD France.
Delcourt Comics – Farmhand  / Criminal / Umbrella Academy
Trois récits inédits et des auteurs-signatures du catalogue Contrebande à l'honneur !
– Farmhand : par Rob Guilory (scénario & dessin) – Une preview inédite de 14 pages tirée de Farmhand #1, la nouvelle série du dessinateur de Tony Chu.
– Umbrella Academy : par Gerard Way (scénario) & Gabriel Bà (dessin) – Un micro-récit publié à l'occasion de la San Diego ComicCon 2008
– Mes Héros ont toujours été des Junkies : par Ed Brubaker (scénario) & Sean Phillips (dessin) – Le Trailer inédit de ce récit situé dans l'univers de Criminal.
+ des marques-pages à découper et collectionner
32 pages.
Delcourt Comics – Star Wars Aventures
Deux récits inédits et des auteurs francophones à l'honneur !
– Une amitié peu probable : par James Gilarte (scénario) & Mauricet (dessin) – Poe Dameron dans un récit complet tiré de Star Wars Adventures #15.
– Un petit coup de pouce : par Scott Peterson (scénario) & Mauricet (dessin) – Mace Windu dans un récit complet tiré de Star Wars Adventures #12.
+ Un PaperToy Star Wars
+ Un mini-Poster par Elsa Charretier
32 pages.
Titre jeunesse à partir de 8 ans
Glénat Comics – Le Pouvoir du Dark Crystal
Dark Crystal et les univers de Jim Henson !
Les années ont passé depuis que le Cristal Noir ait été soigné, et que la paix soit revenue sur Thra. Une espèce mystérieuse de créatures, les Feuflings, vivent dans un royaume situé près du cœur de la planète, dissimulé aux yeux des Gelflings. Une jeune Feufling nommée Thurma a pour mission de voler un éclat du Cristal afin de ramener la chaleur dans son monde. En chemin, elle se lie d'amitié avec le jeune Gelfling Kensho, conjure les SkekSès et les Mystiques, et s'embarque pour une incroyable aventure !
Écrit par Simon Spurrier (The Spire, X-Men Legacy) et richement illustré par Kelly et Nichole Matthews (Toil & Trouble), Le Pouvoir du Dark Crystal contient une postface de Lisa Henson, qui révèle les origines de ce conte merveilleux amené de toute évidence à devenir un classique.
En bonus additionnel : des histoires courtes inédites de Labyrinth, l'autre œuvre mythique de Jim Henson !
32 pages.
Hi Comics – Pocket Mortys: Soumettez-les tous !
Rick & Morty : Soumettez-les tous !
Inspiré par Pocket Mortys, le jeu mobile à succès, Rick & Morty : Soumettez-les tous ! vous plonge dans un monde où la collecte de Mortys est devenu un sport sans pitié.
Dans le premier numéro gratuit de cette série, vous suivrez les aventures d'un Morty (et de ses confrères venus du multivers) en proie aux griffes du terrible Rick, qui collectionne tous les Mortys possibles afin de les faire combattre les uns contre les autres dans des affrontements pour la gloire et la taille de son pénis.
Notre Morty trouvera-t-il en lui les ressources pour libérer les siens de son grand-père pervers ?
24 pages. Exclusif pour le FCBD France
Kinaye – Misfit City / Le Garçon Sorcière
Pour sa première participation au FCBD, les Éditions Kinaye vous proposent 2 previews de titres jeunesse qui paraîtront début 2020
MISFIT CITY
Cinq jeunes filles. Un trou paumé. Et une carte aux trésors !
Lorsque Wilder découvre une carte aux trésors vieille de plusieurs siècles, elle va découvrir qu'une VÉRITABLE aventure était cachée dans sa petite ville pendant tout ce temps… et qu'elle a besoin de ses amies pour faire la lumière sur ce mystère !
LE GARCON SORCIÈRE
Étudier la sorcellerie… pour le meilleur ou pour le pire ?
Dans la famille d'Aster, 13 ans, toutes les filles sont élevées pour devenir des sorcières, tandis que les garçons deviennent des métamorphes.
Lorsqu'un mystérieux danger menace les autres garçons, Aster sait qu'il peut les aider… en devenant sorcier. Il devra faire preuve de courage pour sauver sa famille… et être vraiment lui-même.
25 pages. Titre jeunesse à partir de 9 ans.
Komics Initiative – Fox-Boy
Pour sa première participation au FCBD France, KOMICS INITIATIVE souhaite faire les choses en grand et propose un épisode complet de 23 pages de Fox-Boy, une "author's cut" d'un récit intitulé Terreur Verte écrit et dessiné par Laurent Lefeuvre.
KOMICS INITIATIVE est une jeune maison d'édition créée en 2017, l'éditeur prévoit pour 2019 de multiples parutions que ce soit en terme d'adaptations de comics US ou de création.
Parmi ses caractéristiques, KOMICS INITIATIVE maintient depuis ses débuts sa volonté d'avoir des ouvrages imprimés en France par un imprimeur français (même pour ce numéro du FCBD France), refuse catégoriquement d'être présent sur Amazon et est accessible aux librairies via le réseau de distribution spécialisée Makassar.
23 pages dont certaines exclusives au FCBD France.
Monsieur Toussaint Louverture – Mind MGMT   Un titre énorme de Matt Kindt !!
Enquêtant sur le vol 815 d'American Airlines où les 120 passagers ont été frappés d'amnésie, la jeune journaliste Meru découvre un mystère bien plus étrange encore : l'organisation secrète Mind Management.
Alors qu'elle tente de retrouver le seul passager manquant du vol 815, celui qui est à la fois la plus grande fierté du Mind MGMT et leur plus cuisant échec, sa vie devient une fuite permanente entre médiums militarisés, publicités hypnotiques, dauphins doués de langage et soldats immortels.
En exclusivité pour le Free Comic Book Day France 2019 et près d'un an avant leur parution en volume, voici les deux premiers épisodes inédits de l'œuvre maîtresse de Matt Kindt, l'extraordinaire saga d'espionnage paranormal : Mindt MGMT.
56 pages.
Panini Comics – Fantastic Four #1 / Conan #1  
Grand retour de Panini Comics avec deux tomes à venir qui seront tous les deux au prix de 10 euros pendant 3 mois lors de leur lancement 🙂
De retour pour le FCBD France avec un titre à double entrée pour deux séries Marvel parmi les plus attendues !
Fantastic Four :
Le grand retour de la Première Famille de l'univers Marvel !
Lorsqu'un adversaire presque invincible se met en travers de la route de Reed Richards, le leader des Quatre Fantastiques fait appel aux autres membres de l'équipe pour réussir l'impossible. Mais bien des choses ont changé durant leur absence, et une nouvelle équipe s'est installée au Baxter Building ! Rejoignez les plus grands aventuriers de l'univers Marvel dans cette nouvelle série signée Dan Slott et Sara Pichelli.
Conan The Barbarian :
Le retour de Conan ! Plus de 90 ans après sa création, le héros est plus populaire que jamais !
Les aventures du Cimmérien le plus célèbre du monde sont de nouveau racontées par Marvel. Jason Aaron (Avengers) et Mahmud Asrar (All-New X-Men) nous dévoilent dans un long récit, une aventure du barbare, de sa jeunesse à l'époque où il est devenu le Roi Conan !
Snorgleux – Animosity Tales
Un conte du monde Animosity
Un jour, les animaux se sont éveillés, ils ont commencé à penser, à parler et à se venger…
Pour le FCBD France de cette année, Snorgleux Comics vous propose l'histoire entrecroisée de trois vies et d'un rendez-vous avec le destin au milieu d'un monde en pleine apocalypse; le tout sous fond d'humour noir.
Cette histoire est publiée en France le même jour qu'aux USA.
24 pages. Exclusif au FCBD France.
Et bien entendu l'un de ceux que personne n'attend…
Urban Comics – Batman Damned
Le Joker est mort. C'est désormais une certitude.Mais qui, de Batman ou d'une menace autrement plus malfaisante, a pu mettre fin au règne de terreur du clown criminel ?
Batman, retrouvé inconscient près du corps de son ennemi, est incapable de mettre ses souvenirs en ordre. Pire, il en vient à douter de la réalité elle-même.
Pour l'accompagner, et le perdre un peu plus ?, le justicier reçoit l'aide providentielle de John Constantine au cours d'une enquête qui l'amènera à frayer avec les forces mystiques tapies au cœur de Gotham…
Et voilà donc pour la très belle sélection Française de ce nouveau Free Comic Book Day, vous allez déjà de quoi vous faire franchement plaisir mais comme vous le savez chez Bédéciné ça ne s'arrête pas là !
Partie 2 : Les Titres VO du FCBD    
FCBD 2019 RIVERDALE SEASON 3 SPECIAL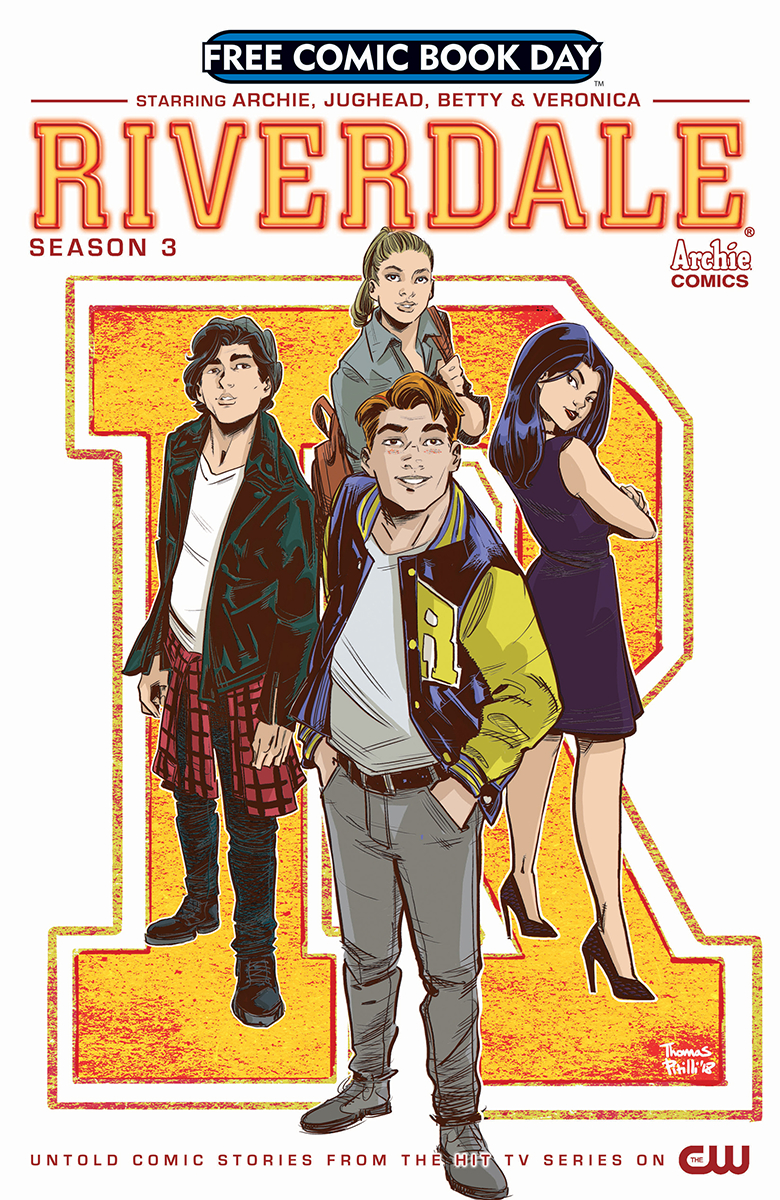 FCBD 2019 WELCOME TO WHEDONVERSE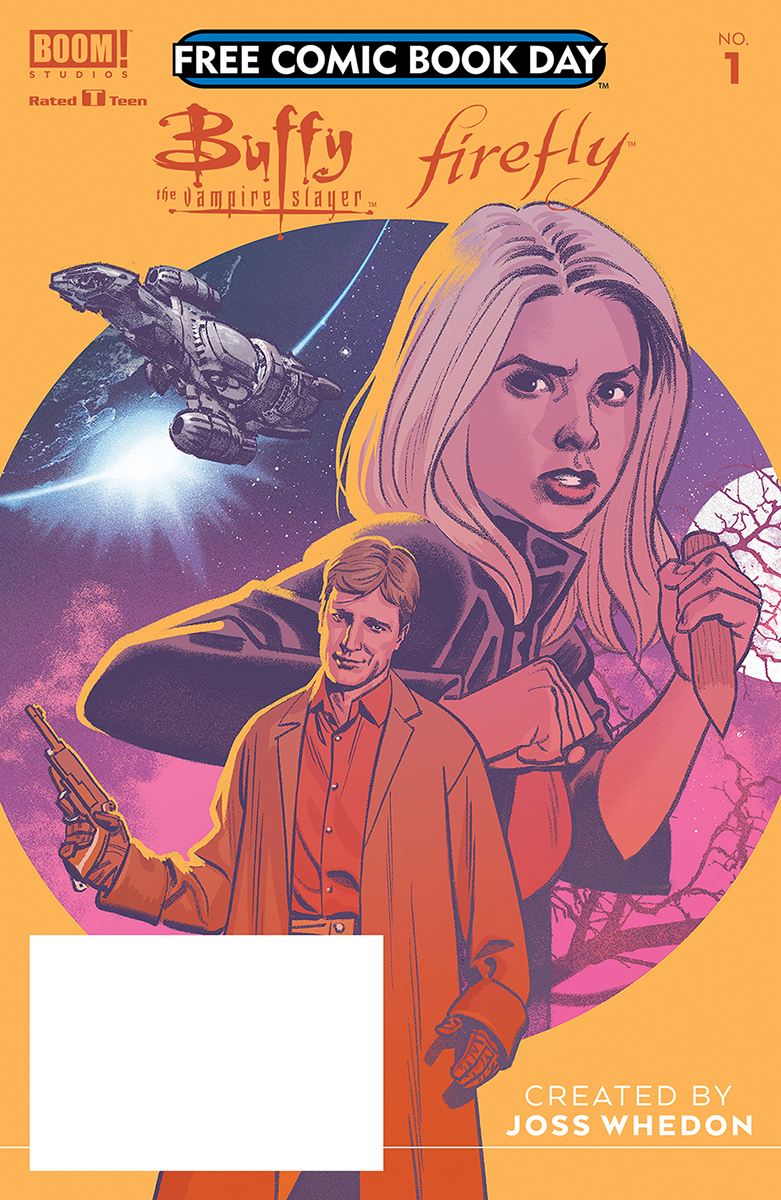 (W) Donny Cates (A) Dylan Burnett (CA) Daniel Warren Johnson Poli has a mech suit and a mission. Weep has machine guns and a temper. Together they lead a band of freedom fighters on a planet populated exclusively by blood-sucking vampires. A planet called Earth. Donny Cates (Venom, God Country) and Dylan Burnett (Cosmic Ghost Rider, X-Force) bring you neon-drenched, blood-soaked, all-out vampire warfare. #DeathBeforeUndead